Sorry, Pre-Registration for has passed.
NYFVI Project Outreach: Transition Cow On-Farm Tour
---
Event Details
Date
September 28, 2021
Time
10:00am-12:00pm
Location
Hemdale Farms
2801 Orleans Rd
Seneca Castle, NY 14547
Cost
Free : Free
Host
Northwest New York Dairy, Livestock & Field Crops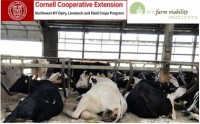 Hemdale Farms is proud to host a farm tour focusing on cow comfort and transition cow facilities as it relates to a NY Farm Viability Institute grant project over the last two years. CCE Regional Dairy Specialists will go over results and benchmarks from assessments of these areas from all 15 farms involved in the study, and Hemdale will share areas they've worked to improve related to fresh and transition cow comfort, as well as give a farm tour and answer questions about their robotic operation. The tour is free to all participants, but registration is required.
Upcoming Events
Design Your Succession Plan
November 2, 2021
November 9, 2021
November 16, 2021
November 30, 2021
December 7, 2021
December 14, 2021

How will your family farm operate in the future when the owner retires or is gone? Are you currently working with another generation who may be questioning their role in the future of the farm or are you yourself questioning your current role? Join Cornell Cooperative Extension across New York State, the Central NY Dairy & Field Crops Team, and the Capital Area Ag & Horticulture Program, for our 6-part webinar series November 2, 2021 - December 14, 2021.
African Swine Fever - What Does it Mean for You?
December 1, 2021
Join us for a virtual discussion on the status of and risks facing New York pig farms from African Swine Fever (ASF). Eireann Collins, DVM, NYS Department of Agriculture and Markets will be covering the symptoms of ASF and what would happen if the disease reached the United States.
Farm Financial Records for Decision Making and Tax Management
December 2, 2021
A primer for beginning farmers, or a tune-up for those already in production, on recording income and annual expenses, capital expenditures and depreciation with additional information covering loans & credit card or revolving loan payments, sales of business assets, and deducting losses.
Announcements
The NWNY Team Blog!
Our goal for
this blog
is to share with farmers and allied industry professionals, technical and applicable resources regarding all aspects of dairy farming, livestock and small farms, field crops and soils, and topics related to farm business management and precision agriculture.

The blog will feature Crop Alerts, Dairy Alerts, Bilingual (Spanish) Resources, Upcoming Events and more from our team members. This blog is free for everyone to use, explore and enjoy. When new material is published, subscribers will receive an email notification.

We hope you enjoy this new platform, and are looking forward to engaging with you in the future!