Crop Alert
Mike Stanyard, Team Leader, Field Crops
Northwest New York Dairy, Livestock & Field Crops
Last Modified: June 29, 2018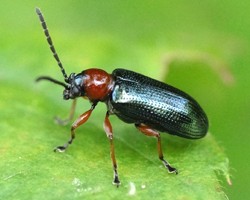 Timely observations, information and control strategies for managing pests and conditions in your fields.

June 29, 2018 Crop Alert: This week's Crop Alert discusses Wheat Harvest Aids, Japanese Beetles have Emerged, 2nd Generation Armyworms, possible concerns, Dicamba Tolerant Soybeans: Prevent Off-Target Drift, There is still time to Interseed and it's time for the Corn and Soybean Yield Contest!
June 15, 2018 Crop Alert:This week's Crop Alert discusses Soybean Aphid Scouting, Maximum Corn Growth Stage for Postemergence Herbicide Application, Interseeding Cover Crops, Corn Herbicides & Interseeding, plus 2 upcoming events: Tag Team for Soil Health & Malting Barley, Wheat & Rye Twilight Tour.

June 1, 2018 Crop Alert: This week's Crop Alert discusses Winter Wheat Pollinating, Watch Regrowth for Alfalfa Weevil Feeding, Weed Resprays, Black Cutworm Alert!, Common Armyworm Updates, Cereal Leaf Beetles in Small Grains, and Potato Leafhoppers have Arrived!
May 18, 2018 Crop Alert: This week's Crop Alert discusses Alfalfa height measurements for this spring are indicating most areas should be ready for harvest of mixed seedings next week! Herbicides on Wheat, Triticale Forage Harvest: Now is the time to check the growth stage of your winter triticale! Some good news and bad news on Spring Migrants: Black Cutworm and Common Armyworm.

For previous bulletins see the Archived Crop Alerts on our Newsletter page.
To receive text alerts when a new Crop Alert email Mike Stanyard at mjs88@cornell.edu.
Corn & Soybean Yield Contest Rules and Entry Form (pdf; 435KB)
Upcoming Events
2018 CCE Adirondack Summer Excursion
July 21, 2018
9:30 am - 6:30 pm
Utica, NY
The New York State Association of Agricultural County Agents (NYSACAA) is dedicated to providing members of Cornell Cooperative Extension community with continuing education, a voice on campus and ways to keep connected with each other. Regional, statewide and national meetings bring members together for professional improvement and social interaction.
The board of directors has once again endorsed a summer social event to bring extension folks from across the state together this summer on the Adirondack Scenic Railroad
(
http://www.adirondackrr.com/adkrr
/).
You do not have to be a NYSACAA member to join us!
This excursion is open to all county, regional and campus employees and their families. It is unfortunate that there are county fairs in progress on that day, however this was the best choice for railroad operation purposes.
Pastured Pork Workshop
August 15, 2018
6:00 pm - 8:00 pm
Naples, NY
Come and hear how heritage pigs are raised on pasture.
No-Till & Never-Till Soil Health Workshop

August 28, 2018
12:00 p.m. - 5:30 p.m.
Stafford, NY
The Western New York Soil Health Alliance will be holding a Soil Health Workshop focusing on No-Till practices and benefits. They will be digging underground to look at a section of field that has NEVER had any tillage and compare it to the adjacent area with a history of tillage practices. In addition, there will be information on the problem of slugs and voles in the higher residue farming practices.
Northwest New York Dairy, Livestock & Field Crops - Cornell Cooperative Extension
Your Trusted Source for Research-Based Knowledge