Crop Alert
Mike Stanyard, Team Leader, Field Crops
Northwest New York Dairy, Livestock & Field Crops
Last Modified: July 27, 2018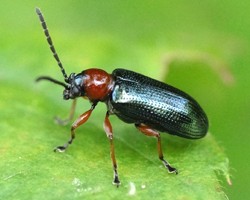 Timely observations, information and control strategies for managing pests and conditions in your fields.

July 27, Crop Alert: This week's Crop Alert discusses It is Time to Scout for Western Bean Cutworm Egg Masses, Soybean Aphid Update, Waterhemp Rearing Its Head, Corn Rootworm (CRW) and the Red Headed Flea Beetle.
July 13, 2018 Crop Alert: This week's Crop Alert discusses Western Bean Cutworm scouting, Start looking for Armyworms, Soybean Aphids and Spider Mites are Here, Pea Aphid/Potato Leafhopper for 3rd Cut Regrowth and The upcoming Grain Gurus Twilight Tour.
June 29, 2018 Crop Alert: This week's Crop Alert discusses Wheat Harvest Aids, Japanese Beetles have Emerged, 2nd Generation Armyworms, possible concerns, Dicamba Tolerant Soybeans: Prevent Off-Target Drift, There is still time to Interseed and it's time for the Corn and Soybean Yield Contest!
June 15, 2018 Crop Alert:This week's Crop Alert discusses Soybean Aphid Scouting, Maximum Corn Growth Stage for Postemergence Herbicide Application, Interseeding Cover Crops, Corn Herbicides & Interseeding, plus 2 upcoming events: Tag Team for Soil Health & Malting Barley, Wheat & Rye Twilight Tour.

For previous bulletins see the Archived Crop Alerts on our Newsletter page.
To receive text alerts when a new Crop Alert email Mike Stanyard at mjs88@cornell.edu.
Corn & Soybean Yield Contest Rules and Entry Form (pdf; 435KB)
Upcoming Events
NY Corn & Soybean Growers - 2021 Summer Crop Tour
August 5, 2021
Canandaigua, NY
The Annual Summer Crop Tour will resume in person on August 5th, 2021 at Catalpa Farms in Canandaigua, NY. They are excited to welcome Rob Sharkey, better known to his many followers as The Shark Farmer, as the keynote speaker this year!
American Farmland Trust - Women for the Land Learning Circle - Conservation Action
August 9, 2021
Perry, NY
Women for the Land Learning Circle - Conservation Action, followed by a bus tour at Table Rock Farm in Castile, NY
Open to all women involved in agriculture in New York, AFT invites you to join us for a peer-to-peer Learning Circle and Farm Tour this August. Our focus is Conservation in Action. Attendees will meet at an immersive photograph exhibit featuring western New York female farmers. We will hear about how conservation is put into action from a certified crop consultant who specializes in on-farm conservation planning. Then we will board a bus and head over to an award-winning family-run dairy, Table Rock Farm, that is at the forefront of agricultural innovation, to see it all in person. Meghan Hauser, a co-owner of the farm, will lead us through the efforts she and her team have implemented to make their 100+ year old farm an environmentally and economically thriving operation. After the tour, we will reflect on the experience and discuss action steps we can take to achieve our own conservation goals.
FACILITATORS:
Stephanie Castle, American Farmland Trust
Joan Petzen, Cornell Cooperative Extension Northwest New York Dairy and Livestock Team
Lorie Ames, Western New York Crop Management Association
JoBeth Bellanca, USDA-NRCS
Meghan Hauser, Table Rock Farm
2021 Aurora Farm Field Day

August 12, 2021
Aurora, NY
The 2021 Cornell Field Crops annual field day will be held August 12th highlighting the latest field crops research across CALS and providing an opportunity for in-person exchange of ideas and experiences. This year's program offers a wide variety of content from no-till planting into rolled cover crops to the use of unoccupied robotic vehicles to monitor plant growth and health.
Announcements
The NWNY Team is Hiring!
The NWNT Dairy, Livestock and Field Crops Team is currently looking for a Field Crops Specialist.
As the Field Crops Specialist, you will provide commercial crop growers, producers, consultants, and industry representatives with the knowledge and educational resources necessary to assess production and management practices. You will focus on developing an education and applied research program in the areas of forage production management, soil health/nutrient management and advancing the principles, applications and implementation of precision agriculture technologies for growers. Other responsibilities include:
Providing producers and industry with a framework to analyze production and management alternatives and maximize profit opportunities based on emerging best-management practices.
Analyzing and evaluating major program efforts with the input of all program partners and making recommendations for enhancing these efforts.
Participating in regional, statewide, and national workgroups.
Initiating and conducting field demonstrations and in-depth applied research projects appropriate to the needs of commercial crop production.
Individually and collaboratively exploring and pursuing new and additional funding sources to enhance and extend program opportunities.
Planning and implementing educational programs utilizing a variety of methods, including direct teaching through group experiences, social media, newsletters, electronic technology, use of the internet, and distance learning.
Preparing quarterly reports and yearly impact statements on program progress and accomplishments.
This position is full-time and will be located in Mount Morris, New York. This is a three-year appointment with possible extension depending on funding and performance. Applications must be submitted by July 31, 2021.
*NEW* The NWNY Team Blog!
Our goal for
this blog
is to share with farmers and allied industry professionals, technical and applicable resources regarding all aspects of dairy farming, livestock and small farms, field crops and soils, and topics related to farm business management and precision agriculture.

The blog will feature Crop Alerts, Dairy Alerts, Bilingual (Spanish) Resources, Upcoming Events and more from our team members. This blog is free for everyone to use, explore and enjoy. When new material is published, subscribers will receive an email notification.

We hope you enjoy this new platform, and are looking forward to engaging with you in the future!