New Technology for Corn Nitrogen Needs
Bill Verbeten, Field Crops
Northwest New York Dairy, Livestock & Field Crops
June 20, 2014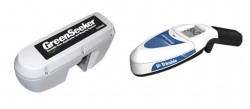 Farmers and agronomists are constantly looking for better tools to improve crop production, and corn nitrogen is no exception. In an effort to account for the spatial variability within every field and the temporal variability of nitrogen due to weather farmers are beginning to use two new tools, GreenSeeker and Adapt-N, on a small scale in northwestern NY. While these tools have great potential to improve corn nitrogen management it is important to understand what they require to work well and the situations where their use may not be warranted until more experience is gained with them. Download the PDF for the full article that appeared in the June 2014 Ag Focus Newsletter.
New Technology for Corn Nitrogen Needs (pdf; 425KB)
Upcoming Events
NWNY Dairy Day 2022
December 6, 2022
Batavia, NY
REGISTRATION NOW OPEN!
Theme: The Future of Your Dairy's Youngstock

The NWNY Dairy, Livestock and Field Crops team will be holding it's first "Dairy Day" this December! We will be bringing the latest in dairy research to you with this in-person, 1-day conference.

2023 Corn Congress - Batavia, NY

January 5, 2023
Batavia, NY
Registration is now open for the 2023 Corn Congress - January 5 & 6, 2023
2023 Corn Congress - Waterloo, NY

January 6, 2023
Waterloo, NY
Registration is now open for the 2023 Corn Congress - January 5 & 6, 2023
Announcements
The NWNY Team Blog
Our goal for
this blog
is to share with farmers and allied industry professionals, technical and applicable resources regarding all aspects of dairy farming, livestock and small farms, field crops and soils, and topics related to farm business management and precision agriculture.

The blog will feature Crop Alerts, Dairy Alerts, Bilingual (Spanish) Resources, Upcoming Events and more from our team members. This blog is free for everyone to use, explore and enjoy. When new material is published, subscribers will receive an email notification.

We hope you enjoy this new platform, and are looking forward to engaging with you in the future!