Crop Alert
Mike Stanyard, Team Leader, Field Crops
Northwest New York Dairy, Livestock & Field Crops
Last Modified: July 27, 2018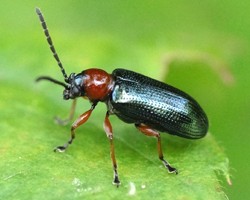 Timely observations, information and control strategies for managing pests and conditions in your fields.

July 27, Crop Alert: This week's Crop Alert discusses It is Time to Scout for Western Bean Cutworm Egg Masses, Soybean Aphid Update, Waterhemp Rearing Its Head, Corn Rootworm (CRW) and the Red Headed Flea Beetle.
July 13, 2018 Crop Alert: This week's Crop Alert discusses Western Bean Cutworm scouting, Start looking for Armyworms, Soybean Aphids and Spider Mites are Here, Pea Aphid/Potato Leafhopper for 3rd Cut Regrowth and The upcoming Grain Gurus Twilight Tour.
June 29, 2018 Crop Alert: This week's Crop Alert discusses Wheat Harvest Aids, Japanese Beetles have Emerged, 2nd Generation Armyworms, possible concerns, Dicamba Tolerant Soybeans: Prevent Off-Target Drift, There is still time to Interseed and it's time for the Corn and Soybean Yield Contest!
June 15, 2018 Crop Alert:This week's Crop Alert discusses Soybean Aphid Scouting, Maximum Corn Growth Stage for Postemergence Herbicide Application, Interseeding Cover Crops, Corn Herbicides & Interseeding, plus 2 upcoming events: Tag Team for Soil Health & Malting Barley, Wheat & Rye Twilight Tour.

For previous bulletins see the Archived Crop Alerts on our Newsletter page.
To receive text alerts when a new Crop Alert email Mike Stanyard at mjs88@cornell.edu.
Corn & Soybean Yield Contest Rules and Entry Form (pdf; 435KB)
Upcoming Events
Weed Resistance Management Demonstration and Plot Tour

July 23, 2019
1:00 - 3:00 p.m.
Waterloo, NY
Come join us on July 23 in Seneca County at Quinten Good's farm for a demonstration and walking tour of 16 different pre- and post-emergence treatments in soybean and 12 different treatments and combinations in corn.
Tall waterhemp and marestail are two weeds that are resistant to glyphosate and ALS herbicide modes of action in the WNY and Finger Lakes regions.
Each year the number of acres with resistant weed populations expands.
For herbicides to be an effective tool in weed management, we have to know what chemistries & application timings are most effective against these resistant weeds.
Income and Real Property Tax Primer-A Learning Circle for Women Non-Operating Land Owners of Ag Land
July 24, 2019
9:00 am - 3:00 pm
Portageville, NY
For many of us taxes can be a mystery, let's have a conversation with the experts about the tax considerations agricultural landowners need to think about.
Pasture Walk with the Finger Lakes Graziers-Cancelled!
July 29, 2019
12:45 - 4 pm
The Finger Lakes Graziers pasture walk has been cancelled due to some scheduling conflicts.
Announcements
RMA Announces Additional One-time Changes to Prevented Planting Provisions
June 29, 2019
RMA Announces Additional One-time Changes to Prevented Planting Provisions
for 2019 Crop Year
In response to delayed and prevented planting resulting from above average rainfall and wetness, the USDA Risk Management Agency has made a one-time change to the 2019 crop year prevented planting rules that effectively allows silage corn, if planted as a cover crop following local agricultural expert guidelines, to be acceptable as a post-prevented planting cover crop. Under this one-time rule change, producers are allowed to produce this crop while retaining their prevented planting payment. This change couples with previously announced one-time changes to the prevented planting rules - including expanded acceptable uses for post-prevented planting cover crops and a change in the cover crop haying and grazing start date rule - serve to help those struggling to meet their forage needs due to the weather.
Read the full article
from the New York Crop Insurance Education Program.
The USDA-RMA states that "For crop insurance purposes, a cover crop is a crop generally recognized by agricultural experts as agronomically sound for the area for erosion control or other purposes related to conservation or soil improvement." PRO-DAIRY specialists Joe Lawrence and Karl Czymmek and Dr. Quirine Ketterings, Professor and Director of Cornell Nutrient Management Spear Program have
released a letter
stating "Corn on Prevented Planting acres meets these objectives."
New Guidance for Mortality Disposal Issued
NYS Department of Ag and Markets has posted guidelines on disposal of livestock carcasses, in response to reports that some rendering companies have halted pickups from farms.
https://nwnyteam.cce.cornell.edu/submission.php?id=761&crumb=dairy|1