How Do I Find Alternative Water on My Farm?
Nancy Glazier, Small Farms & Livestock
Northwest New York Dairy, Livestock & Field Crops
March 1, 2013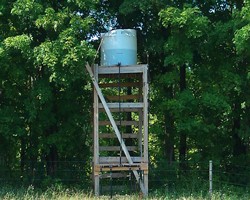 Does that remind you of last summer? Did you run out? The NWNY region is rich with water; the obstacle is getting it to where you need it. New York is home to 0.3% of the world's population with 2.0% of the world's surface water with roughly 8,000 freshwater lakes! Climate trends are pointing to longer growing seasons, so crops will need additional water. There will also be an increasing number of heavy rainfall events, and wetter spring seasons2. The water will be there, but management may need to be adjusted to meet the farm's needs.
Over the winter I had questions and comments about farms' water supplies for grazing. Some farm wells went dry so alternative sources needed to be developed. Here is a brief overview of some options. If you think of others, let me know!
First, think of conservation. Fix leaks, reduce spills, make sure water troughs are level. Keep livestock cool with shade, or bring them back to the barn during the mid-day heat. Utilize pastures early, late and overnight. Have plenty of water available at the barn so they get their fill before heading out to pasture.
You will need to estimate the amount of water needed by your animals. When temperatures are cool, pastures are lush, water consumption will be lower. As the temperatures climb and plants dry out consumption increases. Don't let water be your limiting factor to production! Quality is critical; some water in our area is very hard and can disrupt intake and metabolism. And, regardless of source, the water still needs to get to the animals. Ideally, an alternative source can be connected to your existing water lines.
A quick fix would be a water wagon. If your current source is low, water can be hauled from a municipal well or other source. It can be hauled to a remote pasture that is used only occasionally. Hauling is time-consuming.
I have talked with a couple of farms that are planning to install ponds as a water source. They can be collection basins for springs or rainfall. Placement and sizing is important, as well as soils and subsoils. Depending on the topography of your farm, proper placement would allow gravity flow to stock tanks. A small solar-powered or gas-powered pump can get the water to where it needs to go. Water could be pumped to a storage tank then gravity-fed.
Is there a spring on the farm that could be developed? This is another option. A spring can form when a fracture occurs in an impervious rock layer. Water will seep out of the aquifer, through the crack and reach the ground until the aquifer level drops below the ground outlet. Springs can be collected into a pond or catch area then pumped to where water is needed.
If you are fortunate enough to have a stream on the farm, maybe that is a source. Some waterways can have seasonal flow so use may be limited. Remember to limit livestock access or pump from the stream to prevent erosion and contamination problems.
Maybe it is time to drill a new well. Again, placement is critical; it may be worthwhile drilling in a remote location or at the farmstead. A power source is needed to pump the water.
Contact the experts for assistance! Your county Soil & Water Conservation District or Natural Resources Conservation Service can help! Well drillers or dowsers can assist with placement.
As weather patterns shift and our climate changes, maybe the future will point to pasture irrigation.
1Rime of the Ancient Mariner, by Samuel Taylor Coleridge.
2Report 11-18 Response to Climate Change in New York State, http://www.nyserda.ny.gov/climaid
Upcoming Events
Dairy Cattle Summer Research Update
July 18, 2019
7:00-9:00pm
Batavia, NY
After the day's work is done, come hear about two new research trials conducted by Julio Giordano's lab:
Strategies for improving dairy cattle reproductive performance and economics
Using automated sensors for improving dairy cattle health monitoring and management
Weed Resistance Management Demonstration and Plot Tour

July 23, 2019
1:00 - 3:00 p.m.
Waterloo, NY
Come join us on July 23 in Seneca County at Quinten Good's farm for a demonstration and walking tour of 16 different pre- and post-emergence treatments in soybean and 12 different treatments and combinations in corn.
Tall waterhemp and marestail are two weeds that are resistant to glyphosate and ALS herbicide modes of action in the WNY and Finger Lakes regions.
Each year the number of acres with resistant weed populations expands.
For herbicides to be an effective tool in weed management, we have to know what chemistries & application timings are most effective against these resistant weeds.
Income and Real Property Tax Primer-A Learning Circle for Women Non-Operating Land Owners of Ag Land
July 24, 2019
9:00 am - 3:00 pm
Portageville, NY
For many of us taxes can be a mystery, let's have a conversation with the experts about the tax considerations agricultural landowners need to think about.
Announcements
RMA Announces Additional One-time Changes to Prevented Planting Provisions
June 29, 2019
RMA Announces Additional One-time Changes to Prevented Planting Provisions
for 2019 Crop Year
In response to delayed and prevented planting resulting from above average rainfall and wetness, the USDA Risk Management Agency has made a one-time change to the 2019 crop year prevented planting rules that effectively allows silage corn, if planted as a cover crop following local agricultural expert guidelines, to be acceptable as a post-prevented planting cover crop. Under this one-time rule change, producers are allowed to produce this crop while retaining their prevented planting payment. This change couples with previously announced one-time changes to the prevented planting rules - including expanded acceptable uses for post-prevented planting cover crops and a change in the cover crop haying and grazing start date rule - serve to help those struggling to meet their forage needs due to the weather.
Read the full article
from the New York Crop Insurance Education Program.
The USDA-RMA states that "For crop insurance purposes, a cover crop is a crop generally recognized by agricultural experts as agronomically sound for the area for erosion control or other purposes related to conservation or soil improvement." PRO-DAIRY specialists Joe Lawrence and Karl Czymmek and Dr. Quirine Ketterings, Professor and Director of Cornell Nutrient Management Spear Program have
released a letter
stating "Corn on Prevented Planting acres meets these objectives."
USDA Announces New Decision Tool for New Dairy Margin Coverage Program
WASHINGTON, April 30, 2019
? Agriculture Secretary Sonny Perdue announced today the availability of a new web-based tool - developed in partnership with the University of Wisconsin - to help dairy producers evaluate various scenarios using different coverage levels through the new
Dairy Margin Coverage (DMC)
program.

The 2018 Farm Bill authorized
DMC
, a voluntary risk management program that offers financial protection to dairy producers when the difference between the all milk price and the average feed cost (the margin) falls below a certain dollar amount selected by the producer. It replaces the program previously known as the Margin Protection Program for Dairy. Sign up for this USDA Farm Service Agency (FSA) program opens on June 17.

"With sign-up for the
DMC
program just weeks away, we encourage producers to use this new support tool to help make decisions on participation in the program," Secretary Perdue said. "Dairy producers have faced tough challenges over the years, but the
DMC
program should help producers better weather the ups and downs in the industry."

The University of Wisconsin launched the decision support tool in cooperation with FSA and funded through a cooperative agreement with the USDA Office of the Chief Economist. The tool was designed to help producers determine the level of coverage under a variety of conditions that will provide them with the strongest financial safety net. It allows farmers to simplify their coverage level selection by combining operation data and other key variables to calculate coverage needs based on price projections.

The decision tool assists producers with calculating total premiums costs and administrative fees associated with participation in
DMC
. It also forecasts payments that will be made during the coverage year.

"
The new
Dairy Margin Coverage
program offers very appealing options for all dairy farmers to reduce their net income risk due to volatility in milk or feed prices
," said Dr. Mark Stephenson, Director of Dairy Policy Analysis, University of Wisconsin, Madison. "
Higher coverage levels, monthly payments, and more flexible production coverage options are especially helpful for the sizable majority of farms who can cover much of their milk production with the new five million pound maximum for Tier 1 premiums. This program deserves the careful consideration of all dairy farmers
."

For more information, access the tool at fsa.usda.gov/dmc-tool. For
DMC
sign up, eligibility and related program information, visit fsa.usda.gov or contact your local USDA Service Center. To locate your local FSA office, visit farmers.gov/service-locator.

New Guidance for Mortality Disposal Issued
NYS Department of Ag and Markets has posted guidelines on disposal of livestock carcasses, in response to reports that some rendering companies have halted pickups from farms.
https://nwnyteam.cce.cornell.edu/submission.php?id=761&crumb=dairy|1