Optimizing Your Harvest by Reducing Feed Shrink
Libby Eiholzer, Bilingual Dairy
Northwest New York Dairy, Livestock & Field Crops
September 8, 2016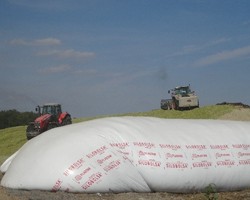 Harvest. While chopping corn or alfalfa, make sure to get every pound that you can into the truck and into the bunk. Missing a truck with the chopper spout or filling a truck so full that feed blows out during transport are both regular occurrences during corn harvest, but every pound that ends up in the field or on the roadside is a pound that doesn't end up in your cows' bellies. How can you avoid this?
If you are hauling silage an extended distance, consider the use of a truck tarp to avoid too much loss.
Make sure that your radios are working well so that the chopper and truck drivers can communicate.
If you have someone driving truck that is new or out of practice, take a little extra time to let them get up to speed.
Remind your crew at the beginning of harvest of the importance of getting as much forage as posible into the bunk.
Storage.
You have the greatest opportunity to reduce future spoilage while putting up forages in the bunk.
First, remember how dry matter impacts proper packing. Feed that is too dry may not pack well enough to eliminate oxygen, thus leading to poor fermentation. Feed that is too wet can lead to excessive moisture loss due to leaching during fermentation.
Covering the forage properly is critical, whether it be with 6-8 mil polyethylene plastic or a combination of plastic and an oxygen barrier. Lining bunk walls can help reduce spoilage around walls and corners and overlapping plastic a good amount when more than one piece are required will also reduce spoilage.
Feed Out.
Once you have a quality feed fermented in your bunk, do everything possible to feed every last pound of it.
When you don't feed off the face fast enough, exposed feed spoils due to oxygen exposure. Remove at least 6 inches per day from the bunk face.
Use a defacer to keep the bunk face smooth.
Keep driveways and feeding surfaces smooth so that the loader and feed truck operators can minimize spillage.
Upcoming Events
NWNY Dairy Day 2022
December 6, 2022
Batavia, NY
REGISTRATION NOW OPEN!
Theme: The Future of Your Dairy's Youngstock

The NWNY Dairy, Livestock and Field Crops team will be holding it's first "Dairy Day" this December! We will be bringing the latest in dairy research to you with this in-person, 1-day conference.

2023 Corn Congress - Batavia, NY

January 5, 2023
Batavia, NY
Save the Date for 2023 Corn Congress - January 5 & 6, 2023
2023 Corn Congress - Waterloo, NY

January 6, 2023
Waterloo, NY
Save the Date for 2023 Corn Congress - January 5 & 6, 2023
Announcements
The NWNY Team Blog
Our goal for
this blog
is to share with farmers and allied industry professionals, technical and applicable resources regarding all aspects of dairy farming, livestock and small farms, field crops and soils, and topics related to farm business management and precision agriculture.

The blog will feature Crop Alerts, Dairy Alerts, Bilingual (Spanish) Resources, Upcoming Events and more from our team members. This blog is free for everyone to use, explore and enjoy. When new material is published, subscribers will receive an email notification.

We hope you enjoy this new platform, and are looking forward to engaging with you in the future!