Grazing at Grassland Dairy
John Hanchar, Farm Business Management
Northwest New York Dairy, Livestock & Field Crops
Last Modified: July 1, 2013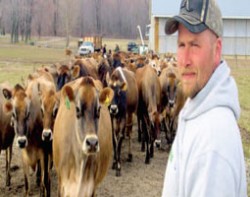 The Tillotsons (Brent, Polly, and their twin sons) own and operate a certified organic dairy farm in Pavilion, NY, Genesee County. Two thousand nine was the first full year of production. Today, between 100 and 110 Jersey cows are milked in a conventional swing parlor, and the farm has about 90 replacement animals. During the grazing season, dry cows and bred heifers obtain 100 percent of their forage needs from pasture, while milking cows obtain forage needs from pasture and a mixed ration. Milking cows are fed grain, while dry cows receive minerals.
Two hundred sixty acres of rented tillable land meet the forage needs of the herd. No corn silage is grown. All other required feeds are purchased -- corn grain for the milking herd, calf grains, and a mineral batch. Brent notes that excellent forages, in the form of grown grasses consumed as pasture or as stored baleage, are key to achieving desired results. Rye grass is the primary forage crop, while clovers and orchard grass share the balance. "Clipping pastures 2 to 3 times a year to manage weed pressures," and "Not grazing pastures too tall, because they tend to get knocked down" are mentioned as important practices in Grassland Dairy's overall approach to producing quality forages.

Cows currently produce about 45 to 50 pounds of milk per day. Milk receipts are enhanced beyond a base organic price when butterfat, protein, and quality factors exceed certain levels. The herd currently averages 4.9 percent butterfat, 3.75 percent protein, and somatic cell counts of 120,000.

The decision to produce certified organic milk was driven by Brent's desire for


a farm that met the family's financial goals, and

a farm that did not require "too many employees, and too much capital investment."

Milk price volatility in the conventional milk market and the desire to avoid the volatility also affected the decision. Regarding Brent's decision to produce certified organic milk, the article states "...he's relieved - and thankful - he decided to go organic."

Current Practices Result from Challenges Faced

Weather Uncertainties
Brent cites adjusting to weather uncertainties, for example, the dry summer conditions of 2009 and the negative effects on grass growth, as a challenge. In 2009, the first full year of organic production, Brent found himself having to rethink the amount of pasture needed. The decision was to fence off all but 60 of the 260 acres, including extending waterers, to accomplish production goals. Where cows were expected to travel a half mile or less to pastures, the expanded pasture area meant that cows now travelled up to three quarters of a mile to a mile to access pastures. Currently, 200 acres are fenced. Twenty 350 feet by 400 feet paddocks are for rotational grazing of dairy cows, while about 40 additional acres are for heifers. The balance is fenced, but not set up for paddocks. The current system provides needed flexibility during periods of poor pastures so that adequate forages are available during the season to meet production goals.Brent emphasizes the importance of providing plenty of water. Water is available at every opening, about every 300 feet. "Animals aren't crowding around waterers when they arrive at a paddock."

Fly Pressures
Fly pressures while cows are on pasture, especially dry cows, and the potential negative consequences for herd health present challenges within the certified organic milk production framework. Regarding fly management, Brent emphasizes the role of allowable vaccinations -"Vaccination protocols - part of a proactive, preventive approach - are high on our list of practices."

Record Keeping
Record keeping associated with organic certification, including detailed records for animal, paddock movements by day, present challenges. Polly, the farm business' Financial Manager, and Brent do their best to understand the requirements. They work hard to keep records up to date, and try to stay informed about changes, for example, USDA's new organic pasture rule that was issued in early 2010. Their efforts are paying off -- Polly mentions that based upon certifiers' comments, they are doing a good job.

The Future
In the near future, the Tillotsons look to achieve and maintain a milking herd of about 120 cows maximum. A new heifer, dry cow barn with capacity for 100 animals is also a key piece for keeping the farm viable in terms of obtaining desired results in the future. Important financial goals include reducing debt. Brent will always be seeking opportunities to maintain and, or improve pastures via laneway and watering system maintenance and improvements, and via new seedings - all ryegrass is the goal.

A Final Thought
The Tillotson's herd of Jersey cows did not have to make the often difficult transition from conventional confinement housing to a pasture based system. Heifers were started on pasture well prior to the 2008 start date for the dairy, and all animals now entering the milking herd have been on pasture. However, Brent does recognize that in other situations animals need to be taken away from the bunk, learning to eat from pasture. Here, Brent shared the view of intensive grazing expert Don Wild, "Go out to lunch for a few days and let them bellow."

Grassland Dairy's story will also appear in Cornell University Cooperative Extension's Dairy Farm Business Summary Extension Bulletin on Intensive Grazing. To order call Linda Putnam at (607) 255-8429 and ask for E.B. 2010-10.


Material from this section draws from a June 2009, American Agriculturist article about Grassland Dairy by Tom Rivers. Tom titled the article "Milk Plunge Escapee." Some material is updated to 2010.
Upcoming Events
Beginning Farmer/Hobby Farmer Workshop $5/pp, class size is limited, so pre-register by April 15th!
April 27, 2019
9:00 am - 1:00 pm
Canandaigua, NY
This hands-on workshop is for beginning or part-time farmers who would like to improve their farm machinery skills, learn to properly and safely maintain their equipment to protect their investment. If you have been thinking about buying a tractor, new or used, two-wheel or four-wheel drive, compact or utility or more come join us. Topics include: selecting the right size/type tractor for the job; basic maintenance; staying safe around tractors and equipment; attaching implements properly; and information about ROPS and SMV's. There will be time for questions.
Pre-registration requested by April 15, 2019 email Amy with your name, address, and phone number or call 585-394-3977 x 429.
Fee: $5.00/person. Class size is limited.
2019 Pastured Poultry Seminar, lunch included so please register by May 10th! $25/person
May 18, 2019
Registration begins at 8:00 a.m.w/ coffee & donuts with the Program running from 9:00 a.m. - 5 p. m.
Attica, NY
The main speaker this year is
Eli Reiff
of Mifflinburg Pennsylvania. Eli raises broilers, turkeys, sheep, and beef, all on pasture. Topics to be covered will include the
pasture
,
feed and nutrition
,
marketing
,
costs
, and much more. As we grow as farm operators and get bigger, we may not pay as much attention to the basics as we should. So those areas are where we will start, and then expand to cover the group's interests.
Mike Badger, Director of the American Pastured Poultry Producers Association
will also be available for a round-table discussion. Plans are to have representatives from Farm Bureau, NYCAMH for farm health and safety, Wyoming County Chamber of Commerce, and Cornell Cooperative Extension of Wyoming County, as well as others.
Calling all 9th-12th graders! 4th Annual Precision Agriculture Day at Genesee Community College
May 21, 2019
9:00 am - 1:30 pm Register by Friday May 10th! $15/per person includes lunch
Batavia, NY
Calling all 9th-12th graders! We have an exciting new program for students interested in technology, science, engineering, and agriculture!
Would you like to:
Learn about how Drones collect information
Check out some potential career opportunities that have new and ever-changing technology
Learn how these technologies can be used in our own backyards in WNY
Discover potential and exciting career opportunities
Announcements
Producers Previously Enrolled in the LGM Program Now Eligible for MPP
Dairy Producers Previously Enrolled in the Livestock Gross Margin Program Now Eligible for 2018 Margin Protection Program
The U.S. Department of Agriculture (USDA) today announced that dairy producers who elected to participate in the Livestock Gross Margin for Dairy Cattle Program (LGM-Dairy) now have the opportunity to participate in the Margin Protection Program for Dairy (MPP-Dairy) for 2018 coverage. Sign-up will take place March 25 through May 10, 2019.
Eligible producers can enroll during the sign-up period at their local USDA service center. To locate your office, visit
farmers.gov
.
Smart Farming Team Technical Assistance Grant Application
The
Labor Ready Farmer Project
is offering grants to provide up to 12 hours of Technical Assistance (TA) consulting services to farms who want to make improvements to their farm's processes in hiring, training, managing or evaluating employees. Applicants will choose from one of the following four areas for TA assistance and identify a specific project. If selected they will be matched with a "Smart Farming Team" of consultants who will provide one on one technical assistance.
HIRING EMPLOYEES 101 - GETTING OFF TO A GOOD START
ONBOARDING & TRAINING EMPLOYEES QUICKLY AND EFFECTIVELY
FINE-TUNING & IMPROVING THE WORKING ENVIRONMENT
H2-A READINESS
Please complete this
application
and send to Nicole Waters, Beginning Farm Project Coordinator for the Cornell Small Farms Program. The form can be submitted by email, mail or in-person at the address listed below. Please feel free to call or email with any questions.
Nicole Waters - Beginning Farmer Project Coordinator
Plant Science Building, Room 15b
Tower Road, Cornell University
Ithaca, NY 14853
Phone: 607-255-9911
Email: nw42@cornell.edu

Applications accepted on a rolling basis.
USDA Announces January Income over Feed Cost Margin Triggers First 2019 Dairy Sa
WASHINGTON, March 6, 2019
? The U.S. Department of Agriculture's Farm Service Agency (FSA) announced this week that the January 2019 income over feed cost margin was $7.99 per hundredweight, triggering the first payment for eligible dairy producers who purchase the appropriate level of coverage under the new but yet-to-be established Dairy Margin Coverage (
DMC
) program.
DMC
, which replaces the Margin Protection Program for Dairy, is a voluntary risk management program for dairy producers that was authorized by the 2018 Farm Bill.
DMC
offers protection to dairy producers when the difference between the all milk price and the average feed cost (the margin) falls below a certain dollar amount selected by the producer.

Agriculture Secretary Sonny Perdue announced last week that sign up for
DMC
will open by mid-June of this year. At the time of sign up, producers who elect a
DMC
coverage level between $8.00 and $9.50 would be eligible for a payment for January 2019.
For example, a dairy operation with an established production history of 3 million pounds (30,000 cwt.) that elects the $9.50 coverage level for 50 percent of its production could potentially be eligible to receive $1,887.50 for January.
Sample calculation:
$9.50 - $7.99 margin = $1.51 difference
$1.51 times 50 percent of production times 2,500 cwt. (30,000 cwt./12) = $1,887.50
The calculated annual premium for coverage at $9.50 on 50 percent of a 3-million-pound production history for this example would be $2,250.
Sample calculation:
3,000,000 times 50 percent = 1,500,000/100 = 15,000 cwt. times 0.150 premium fee = $2,250
Operations making a one-time election to participate in DMC through 2023 are eligible to receive a 25 percent discount on their premium for the existing margin coverage rates.
"
Congress created the Dairy Margin Coverage program to provide an important financial safety net for dairy producers, helping them weather shifting milk and feed prices
," FSA Administrator Richard Fordyce said. "
This program builds on the previous Margin Protection Program for Dairy, carrying forward many of the program upgrades made last year based on feedback from producers. We're working diligently to implement the DMC program and other FSA programs authorized by the 2018 Farm Bill
."
Additional details about
DMC
and other FSA farm bill program changes can be found at
farmers.gov/farmbill.
New Guidance for Mortality Disposal Issued
NYS Department of Ag and Markets has posted guidelines on disposal of livestock carcasses, in response to reports that some rendering companies have halted pickups from farms.
https://nwnyteam.cce.cornell.edu/submission.php?id=761&crumb=dairy|1