Grazing at Grassland Dairy
John Hanchar, Farm Business Management
Northwest New York Dairy, Livestock & Field Crops
Last Modified: July 1, 2013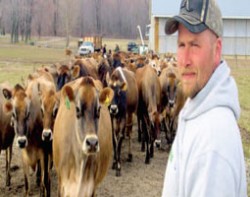 The Tillotsons (Brent, Polly, and their twin sons) own and operate a certified organic dairy farm in Pavilion, NY, Genesee County. Two thousand nine was the first full year of production. Today, between 100 and 110 Jersey cows are milked in a conventional swing parlor, and the farm has about 90 replacement animals. During the grazing season, dry cows and bred heifers obtain 100 percent of their forage needs from pasture, while milking cows obtain forage needs from pasture and a mixed ration. Milking cows are fed grain, while dry cows receive minerals. Two hundred sixty acres of rented tillable land meet the forage needs of the herd. No corn silage is grown. All other required feeds are purchased -- corn grain for the milking herd, calf grains, and a mineral batch. Brent notes that excellent forages, in the form of grown grasses consumed as pasture or as stored baleage, are key to achieving desired results. Rye grass is the primary forage crop, while clovers and orchard grass share the balance. "Clipping pastures 2 to 3 times a year to manage weed pressures," and "Not grazing pastures too tall, because they tend to get knocked down" are mentioned as important practices in Grassland Dairy's overall approach to producing quality forages.
Cows currently produce about 45 to 50 pounds of milk per day. Milk receipts are enhanced beyond a base organic price when butterfat, protein, and quality factors exceed certain levels. The herd currently averages 4.9 percent butterfat, 3.75 percent protein, and somatic cell counts of 120,000.
The decision to produce certified organic milk was driven by Brent's desire for
a farm that met the family's financial goals, and
a farm that did not require "too many employees, and too much capital investment."
Milk price volatility in the conventional milk market and the desire to avoid the volatility also affected the decision. Regarding Brent's decision to produce certified organic milk, the article states "...he's relieved - and thankful - he decided to go organic."
Current Practices Result from Challenges Faced
Weather Uncertainties
Brent cites adjusting to weather uncertainties, for example, the dry summer conditions of 2009 and the negative effects on grass growth, as a challenge. In 2009, the first full year of organic production, Brent found himself having to rethink the amount of pasture needed. The decision was to fence off all but 60 of the 260 acres, including extending waterers, to accomplish production goals. Where cows were expected to travel a half mile or less to pastures, the expanded pasture area meant that cows now travelled up to three quarters of a mile to a mile to access pastures. Currently, 200 acres are fenced. Twenty 350 feet by 400 feet paddocks are for rotational grazing of dairy cows, while about 40 additional acres are for heifers. The balance is fenced, but not set up for paddocks. The current system provides needed flexibility during periods of poor pastures so that adequate forages are available during the season to meet production goals.Brent emphasizes the importance of providing plenty of water. Water is available at every opening, about every 300 feet. "Animals aren't crowding around waterers when they arrive at a paddock."
Fly Pressures
Fly pressures while cows are on pasture, especially dry cows, and the potential negative consequences for herd health present challenges within the certified organic milk production framework. Regarding fly management, Brent emphasizes the role of allowable vaccinations -"Vaccination protocols - part of a proactive, preventive approach - are high on our list of practices."
Record Keeping
Record keeping associated with organic certification, including detailed records for animal, paddock movements by day, present challenges. Polly, the farm business' Financial Manager, and Brent do their best to understand the requirements. They work hard to keep records up to date, and try to stay informed about changes, for example, USDA's new organic pasture rule that was issued in early 2010. Their efforts are paying off -- Polly mentions that based upon certifiers' comments, they are doing a good job.
The Future
In the near future, the Tillotsons look to achieve and maintain a milking herd of about 120 cows maximum. A new heifer, dry cow barn with capacity for 100 animals is also a key piece for keeping the farm viable in terms of obtaining desired results in the future. Important financial goals include reducing debt. Brent will always be seeking opportunities to maintain and, or improve pastures via laneway and watering system maintenance and improvements, and via new seedings - all ryegrass is the goal.
A Final Thought
The Tillotson's herd of Jersey cows did not have to make the often difficult transition from conventional confinement housing to a pasture based system. Heifers were started on pasture well prior to the 2008 start date for the dairy, and all animals now entering the milking herd have been on pasture. However, Brent does recognize that in other situations animals need to be taken away from the bunk, learning to eat from pasture. Here, Brent shared the view of intensive grazing expert Don Wild, "Go out to lunch for a few days and let them bellow."
Grassland Dairy's story will also appear in Cornell University Cooperative Extension's Dairy Farm Business Summary Extension Bulletin on Intensive Grazing. To order call Linda Putnam at (607) 255-8429 and ask for E.B. 2010-10.
Material from this section draws from a June 2009, American Agriculturist article about Grassland Dairy by Tom Rivers. Tom titled the article "Milk Plunge Escapee." Some material is updated to 2010.
Upcoming Events
Weed Resistance Management Demonstration and Plot Tour

July 23, 2019
1:00 - 3:00 p.m.
Waterloo, NY
Come join us on July 23 in Seneca County at Quinten Good's farm for a demonstration and walking tour of 16 different pre- and post-emergence treatments in soybean and 12 different treatments and combinations in corn.
Tall waterhemp and marestail are two weeds that are resistant to glyphosate and ALS herbicide modes of action in the WNY and Finger Lakes regions.
Each year the number of acres with resistant weed populations expands.
For herbicides to be an effective tool in weed management, we have to know what chemistries & application timings are most effective against these resistant weeds.
Income and Real Property Tax Primer-A Learning Circle for Women Non-Operating Land Owners of Ag Land
July 24, 2019
9:00 am - 3:00 pm
Portageville, NY
For many of us taxes can be a mystery, let's have a conversation with the experts about the tax considerations agricultural landowners need to think about.
Pasture Walk with the Finger Lakes Graziers-Cancelled!
July 29, 2019
12:45 - 4 pm
The Finger Lakes Graziers pasture walk has been cancelled due to some scheduling conflicts.
Announcements
RMA Announces Additional One-time Changes to Prevented Planting Provisions
June 29, 2019
RMA Announces Additional One-time Changes to Prevented Planting Provisions
for 2019 Crop Year
In response to delayed and prevented planting resulting from above average rainfall and wetness, the USDA Risk Management Agency has made a one-time change to the 2019 crop year prevented planting rules that effectively allows silage corn, if planted as a cover crop following local agricultural expert guidelines, to be acceptable as a post-prevented planting cover crop. Under this one-time rule change, producers are allowed to produce this crop while retaining their prevented planting payment. This change couples with previously announced one-time changes to the prevented planting rules - including expanded acceptable uses for post-prevented planting cover crops and a change in the cover crop haying and grazing start date rule - serve to help those struggling to meet their forage needs due to the weather.
Read the full article
from the New York Crop Insurance Education Program.
The USDA-RMA states that "For crop insurance purposes, a cover crop is a crop generally recognized by agricultural experts as agronomically sound for the area for erosion control or other purposes related to conservation or soil improvement." PRO-DAIRY specialists Joe Lawrence and Karl Czymmek and Dr. Quirine Ketterings, Professor and Director of Cornell Nutrient Management Spear Program have
released a letter
stating "Corn on Prevented Planting acres meets these objectives."
New Guidance for Mortality Disposal Issued
NYS Department of Ag and Markets has posted guidelines on disposal of livestock carcasses, in response to reports that some rendering companies have halted pickups from farms.
https://nwnyteam.cce.cornell.edu/submission.php?id=761&crumb=dairy|1