Increasing Milking Frequency and Implications on Mammary Cell Dynamics
Jackson Wright, Dairy
Northwest New York Dairy, Livestock & Field Crops
June 1, 2012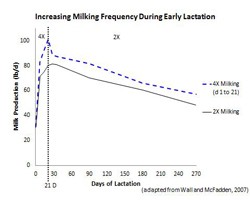 To overcome these setbacks, it's important to consider the underlying biology of the mammary gland. Ultimately, milk production is a function of mammary epithelial cell number and activity. In other words, to produce large quantities of milk requires a large amount of mammary epithelial cells and these cells need to be actively secreting milk. Applying this to the lactation curve, during early lactation mammary epithelial cell number is greatest. As milk production ramps up this large pool of cells become increasingly active leading up to peak milk production. Following peak milk yield, the mammary gland enters the declining phase of lactation where mammary epithelial cells slowly become quiescent (stop actively producing milk) and undergo apoptosis (programmed cell death), resulting in a gradual decrease in milk production.
So why is this important? Anecdotally, I've heard many producers reference "For each pound more milk achieved in peak milk, total lactation yield increases 200 lbs," or a higher peak milk yield results in greater lactation persistency. Consider this: during milk letdown hormones such as oxytocin, prolactin, and IGF-1 are released into the blood stream. As we learn more about lactation physiology it is likely that these hormones target mammary epithelial cells and are important in signaling milk demands of the offspring. Therefore, increasing milking frequency during early lactation increases the frequency by which these hormones are released, signaling a higher demand for milk. Moreover, some authors have hypothesized that these hormones actually stimulate mammary epithelial cell activity preventing these cells from becoming quiescent and undergoing apoptosis, resulting in greater lactation persistency. Taking this a step further, because mammary epithelial cell number is greatest during early lactation, frequent milking during the first three weeks of lactation influences a greater number of target cells. Essentially, telling the dam there is high demand for milk and it is important to sustain this large pool of actively secreting mammary epithelial cells to meet future demand. As a result, increasing milking frequency through only day 21 of lactation can permanently increase the milk production capacity of the gland even after cows are returned to 2X milking (See Graph).

Maybe more importantly, increasing milking frequency during early lactation is simple to put into practice. Milking intervals do not need to be evenly spaced throughout the day; therefore fresh cows can be milked at the beginning and end of each milking (4X). This adds only a modest amount of time to each milking shift and does not require additional wash cycles, improving milk production per cow and parlor efficiency. Despite these exciting opportunities some early adopters of frequent milking during early lactation were discouraged by the results. This is likely because milk production drops as cow's transition from 4X milking to 2X milking. However, it's important to recognize that even though production drops following cessation of 4X milking, increasing milking frequency during early lactation permanently increases the milk production capacity of the udder into late lactation (See Graph). The immediate increase in milk production, minimal labor requirement, and increase in lactation persistency make increasing milking frequency during early lactation a profitable management strategy.


Upcoming Events
Dairy Cattle Summer Research Update
July 18, 2019
7:00-9:00pm
Batavia, NY
After the day's work is done, come hear about two new research trials conducted by Julio Giordano's lab:
Strategies for improving dairy cattle reproductive performance and economics
Using automated sensors for improving dairy cattle health monitoring and management
Weed Resistance Management Demonstration and Plot Tour

July 23, 2019
1:00 - 3:00 p.m.
Waterloo, NY
Come join us on July 23 in Seneca County at Quinten Good's farm for a demonstration and walking tour of 16 different pre- and post-emergence treatments in soybean and 12 different treatments and combinations in corn.
Tall waterhemp and marestail are two weeds that are resistant to glyphosate and ALS herbicide modes of action in the WNY and Finger Lakes regions.
Each year the number of acres with resistant weed populations expands.
For herbicides to be an effective tool in weed management, we have to know what chemistries & application timings are most effective against these resistant weeds.
Income and Real Property Tax Primer-A Learning Circle for Women Non-Operating Land Owners of Ag Land
July 24, 2019
9:00 am - 3:00 pm
Portageville, NY
For many of us taxes can be a mystery, let's have a conversation with the experts about the tax considerations agricultural landowners need to think about.
Announcements
RMA Announces Additional One-time Changes to Prevented Planting Provisions
June 29, 2019
RMA Announces Additional One-time Changes to Prevented Planting Provisions
for 2019 Crop Year
In response to delayed and prevented planting resulting from above average rainfall and wetness, the USDA Risk Management Agency has made a one-time change to the 2019 crop year prevented planting rules that effectively allows silage corn, if planted as a cover crop following local agricultural expert guidelines, to be acceptable as a post-prevented planting cover crop. Under this one-time rule change, producers are allowed to produce this crop while retaining their prevented planting payment. This change couples with previously announced one-time changes to the prevented planting rules - including expanded acceptable uses for post-prevented planting cover crops and a change in the cover crop haying and grazing start date rule - serve to help those struggling to meet their forage needs due to the weather.
Read the full article
from the New York Crop Insurance Education Program.
The USDA-RMA states that "For crop insurance purposes, a cover crop is a crop generally recognized by agricultural experts as agronomically sound for the area for erosion control or other purposes related to conservation or soil improvement." PRO-DAIRY specialists Joe Lawrence and Karl Czymmek and Dr. Quirine Ketterings, Professor and Director of Cornell Nutrient Management Spear Program have
released a letter
stating "Corn on Prevented Planting acres meets these objectives."
USDA Announces New Decision Tool for New Dairy Margin Coverage Program
WASHINGTON, April 30, 2019
? Agriculture Secretary Sonny Perdue announced today the availability of a new web-based tool - developed in partnership with the University of Wisconsin - to help dairy producers evaluate various scenarios using different coverage levels through the new
Dairy Margin Coverage (DMC)
program.

The 2018 Farm Bill authorized
DMC
, a voluntary risk management program that offers financial protection to dairy producers when the difference between the all milk price and the average feed cost (the margin) falls below a certain dollar amount selected by the producer. It replaces the program previously known as the Margin Protection Program for Dairy. Sign up for this USDA Farm Service Agency (FSA) program opens on June 17.

"With sign-up for the
DMC
program just weeks away, we encourage producers to use this new support tool to help make decisions on participation in the program," Secretary Perdue said. "Dairy producers have faced tough challenges over the years, but the
DMC
program should help producers better weather the ups and downs in the industry."

The University of Wisconsin launched the decision support tool in cooperation with FSA and funded through a cooperative agreement with the USDA Office of the Chief Economist. The tool was designed to help producers determine the level of coverage under a variety of conditions that will provide them with the strongest financial safety net. It allows farmers to simplify their coverage level selection by combining operation data and other key variables to calculate coverage needs based on price projections.

The decision tool assists producers with calculating total premiums costs and administrative fees associated with participation in
DMC
. It also forecasts payments that will be made during the coverage year.

"
The new
Dairy Margin Coverage
program offers very appealing options for all dairy farmers to reduce their net income risk due to volatility in milk or feed prices
," said Dr. Mark Stephenson, Director of Dairy Policy Analysis, University of Wisconsin, Madison. "
Higher coverage levels, monthly payments, and more flexible production coverage options are especially helpful for the sizable majority of farms who can cover much of their milk production with the new five million pound maximum for Tier 1 premiums. This program deserves the careful consideration of all dairy farmers
."

For more information, access the tool at fsa.usda.gov/dmc-tool. For
DMC
sign up, eligibility and related program information, visit fsa.usda.gov or contact your local USDA Service Center. To locate your local FSA office, visit farmers.gov/service-locator.

New Guidance for Mortality Disposal Issued
NYS Department of Ag and Markets has posted guidelines on disposal of livestock carcasses, in response to reports that some rendering companies have halted pickups from farms.
https://nwnyteam.cce.cornell.edu/submission.php?id=761&crumb=dairy|1