Deworming before Turnout Makes Good $ense - "Raining on the Parasite Parade"
Jerry Bertoldo, Dairy
Northwest New York Dairy, Livestock & Field Crops
Last Modified: June 25, 2013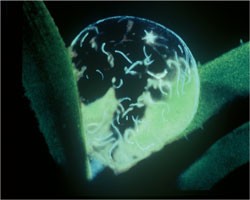 Infestation with internal "worm-like" parasites (nematodes) can be a significant drain on growth rates for young stock and milk production particularly in first lactation heifers. Totally confined livestock are rarely bothered with nematodes. Newborns left on bedding packs infrequently bedded and previously occupied by shedding adults, however can be at risk of infection at an early age.
Internal parasites are economically the most important. Nematodes and coccidia have by far the most important economic impact of all parasitic diseases in the Northeast. Coccidia, tiny single-cell organisms, unfortunately are not controlled by any wormers. Coccidial control products such as Corid®, Bovatec®, Deccox® and Rumensin® must be used. Coccidiosis is a serious parasitic problem in young animals, but usually not after six months of age when resistance normally develops.
The most damaging part of the life cycle of nematodes occurs in the abomasum and intestines. As a result, diarrhea and poor feed efficiency can be seen. Deficiencies in energy, protein and micronutrients (vitamins and minerals) can occur depending on the severity. Mild cases may only affect the level of milk production a pound or so or the growth of young stock by a tenth or two of a pound of weight gain per day. Heavy infestation leads to poor body condition, faded rough hair coats, sickness, infertility and possible death in younger animals. Some nematode species create problems in the respiratory tract leading to coughing and sometimes pneumonia.
Subclinical infection not easy to see. Subclinical infection, with subtle health problems and progressive loss of productivity, is the biggest issue. By far, internal parasitism is the most difficult to judge as far as the risk and need for action. Ironically, it is generally the most costly form occurring on the dairy.
What factors need to be considered in evaluating the threat of infection and potential economic loss from "worm-like" parasites?
1. Age. The younger the animal the less resistance it has.
2. Stage of milk production. Fresh heifers (<100 DIM) are the most heavily impacted (reduced milk and body condition loss) of early lactation cows carrying significant worm loads.
3. Pasture contamination. 99% of all pastures supporting cattle for grazing or exercise are contaminated. Period. Intensity of contamination is the only question! Any lot with edible vegetation can be a source of infection. Frequent (<3 days use per lot) pasture rotation with a return after 10 days or more allows for the maximum destruction of infective larvae by a combination of sun, dung beetles and drying. Winter freeze-kill cannot be taken as 100% effective.
4. Stocking rate. Worm eggs and larvae have lower survival rates when manure is distributed over a larger area. Heavy manure build up assures greater infective larvae numbers and exposure to cattle.
5. Weather. Warm and dry increases kill rates over damp and cool.
6. Nutrition. Parasites prefer animals that are undernourished.
7. Immune status. All animals have a limited ability to build resistance against internal parasites. This never approaches the degree acquired against viruses and bacteria, however. Poor nutrition, stressful times, the calving period and coincidental diseases lower the immune status.
8. Grazing environment. Grazing during lactation and rotational grazing of all ages present the highest risk of infection. Grazing during the dry period and access to an exercise lot with some grass offers moderate risk. Cows on dirt dry lots without grass are at low risk. Total confinement and concrete dry lots have very little contamination potential. Dew covered grass holds the most infective larvae (in the water droplets) of any vegetation in the pasture.
Deworming strategies should vary by age.
There are two deworming strategies for adult cattle: the individual cow and the seasonal herd approach. Both require monitoring by fecal exam to determine contamination levels in the environment. Low contamination levels may require minimal or no treatment. Unfortunately, this cannot be judged by just looking over the animals.
The individual approach. (This strategy includes first calf heifers.)
Cows in high and moderate contamination situations are treated at freshening and again 6 weeks into lactation.
Low contamination level cows are treated only at freshening.
Environments with little or no potential risk require no treatment only monitoring.
The seasonal treatment approach.
All springers and cows in high and moderate contamination situations are treated in late November to early December and again 6 weeks after turnout onto grass.
Low contamination level cows are treated in the late fall only.
Environments with little or no potential risk require no treatment only monitoring.
Approach to young stock.
Less than 300-400 lbs.: treat 3-4 weeks after turnout and again 3-4 weeks later
Between 400 and 800 lbs.: treat at turnout, again 3-4 weeks later and a third time 3-4 weeks later
Greater than 800 lbs.: treat at turnout and 4-5 weeks later
NOTE: Any heifer treated in the late fall does not need deworming at turnout
Young stock under 300-400 lbs in the spring are not considered to have been exposed to parasites. The cycle of nematodes varies with the age of the animal. In younger heifers the cycle is 3-4 weeks as opposed to 6-7 weeks in the adult. This explains the timing differences between treatments by age.
Egg shed does not begin until about 40 days after normal spring turnout and usually slows dramatically by July 1st in our climate. This explains the treatment recommendation weeks after turnout. This deworming is designed partly to keep pastures from further parasite build up.
Whether you have your own adult cattle or young stock on pasture or just raise heifers utilizing some grazing, there is a good deal of trial work to show the benefits of a strategic deworming program. It is important to note that pastures will never clean up from worm contamination while in use if these programs are not used.
Upcoming Events
Weed Resistance Management Demonstration and Plot Tour

July 23, 2019
1:00 - 3:00 p.m.
Waterloo, NY
Come join us on July 23 in Seneca County at Quinten Good's farm for a demonstration and walking tour of 16 different pre- and post-emergence treatments in soybean and 12 different treatments and combinations in corn.
Tall waterhemp and marestail are two weeds that are resistant to glyphosate and ALS herbicide modes of action in the WNY and Finger Lakes regions.
Each year the number of acres with resistant weed populations expands.
For herbicides to be an effective tool in weed management, we have to know what chemistries & application timings are most effective against these resistant weeds.
Income and Real Property Tax Primer-A Learning Circle for Women Non-Operating Land Owners of Ag Land
July 24, 2019
9:00 am - 3:00 pm
Portageville, NY
For many of us taxes can be a mystery, let's have a conversation with the experts about the tax considerations agricultural landowners need to think about.
Pasture Walk with the Finger Lakes Graziers-Cancelled!
July 29, 2019
12:45 - 4 pm
The Finger Lakes Graziers pasture walk has been cancelled due to some scheduling conflicts.
Announcements
RMA Announces Additional One-time Changes to Prevented Planting Provisions
June 29, 2019
RMA Announces Additional One-time Changes to Prevented Planting Provisions
for 2019 Crop Year
In response to delayed and prevented planting resulting from above average rainfall and wetness, the USDA Risk Management Agency has made a one-time change to the 2019 crop year prevented planting rules that effectively allows silage corn, if planted as a cover crop following local agricultural expert guidelines, to be acceptable as a post-prevented planting cover crop. Under this one-time rule change, producers are allowed to produce this crop while retaining their prevented planting payment. This change couples with previously announced one-time changes to the prevented planting rules - including expanded acceptable uses for post-prevented planting cover crops and a change in the cover crop haying and grazing start date rule - serve to help those struggling to meet their forage needs due to the weather.
Read the full article
from the New York Crop Insurance Education Program.
The USDA-RMA states that "For crop insurance purposes, a cover crop is a crop generally recognized by agricultural experts as agronomically sound for the area for erosion control or other purposes related to conservation or soil improvement." PRO-DAIRY specialists Joe Lawrence and Karl Czymmek and Dr. Quirine Ketterings, Professor and Director of Cornell Nutrient Management Spear Program have
released a letter
stating "Corn on Prevented Planting acres meets these objectives."
New Guidance for Mortality Disposal Issued
NYS Department of Ag and Markets has posted guidelines on disposal of livestock carcasses, in response to reports that some rendering companies have halted pickups from farms.
https://nwnyteam.cce.cornell.edu/submission.php?id=761&crumb=dairy|1