Practical ways to decrease Somatic Cell Count
Jackson Wright, Dairy
Northwest New York Dairy, Livestock & Field Crops
November 1, 2012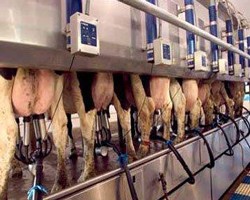 Milk production is a function of mammary epithelial cell number and activity. In other words, the more actively producing mammary epithelial cells the more milk produced. When a cow gets mastitis, organisms invade the quarter stimulating an immune response. This process results in damage to the milk producing cells within the gland. Moreover, somatic cells are not exclusively white blood cells. Soma is latin for "body" and somatic refers to "of the body", meaning that somatic cells are cells of the body and actually consists of multiple cell types; including white blood cells, cells lining the milk ducts, and milk producing mammary epithelial cells. As the infection gets resolved the damaged milk producing cells in the udder get replaced with scar tissue, decreasing the milk production potential of the infected quarter. Put simply, as SCC increases milk production decreases (See Figure 1).
The question then becomes how can we practically decrease SCC? Many times the answer lies in the milking routine. Briefly, udder preparation needs to be firm but not harsh. Using the calf as an example, a calf will suck and head-butt the udder until milk is letdown. This cow/calf interaction causes the release of oxytocin into the blood stream. Once oxytocin reaches the mammary gland it acts on the myoepithelial cells to initiate milk letdown. This entire process takes approximately 60-90 seconds. Therefore proper udder preparation should consistently clean and dry the teats while timing attachment of the milking unit with peak oxytocin release. If the milking routine is painful, adrenaline may be released which can counteract oxytocin and prevent milk letdown. Finally, post dipping should ensure complete coverage of the teat. Adequate post-dipping should result in excessive post-dip pooling near the teat end orifice, providing a barrier to entry until the teat sphincter can close.
Often breakdowns occur when the milking unit is attached to dirty or moist teats. Many times this is the result of milking personnel using dirty gloves between cows. Consider this: the recommendation for milking personnel to use latex gloves stems from the fact that bacteria are present on our skin. Using gloves makes it harder for bacteria to "stick". However, if gloves become contaminated with manure they too harbor pathogens. This creates a dilemma because a consistent milking routine can be difficult to maintain if milking personnel are constantly changing gloves. One way to address this issue is to mix rubbing alcohol with water at a 70:30 ratio of rubbing alcohol to water, in a standard spray bottle. This can be used as an effective hand-sanitizer, disinfecting latex gloves that otherwise should be changed. Since this is an alcohol based mixture, this quickly evaporates, making it a practical way for milking personnel to clean their gloves during milking. Similarly, because this can be performed quickly milkers can maintain a consistent milking routine while improving hygiene. This can provide additional incentives for milk quality premiums and improved milk production throughout lactation.
Figure 1 (pdf; 55KB)
Upcoming Events
Weed Resistance Management Demonstration and Plot Tour

July 23, 2019
1:00 - 3:00 p.m.
Waterloo, NY
Come join us on July 23 in Seneca County at Quinten Good's farm for a demonstration and walking tour of 16 different pre- and post-emergence treatments in soybean and 12 different treatments and combinations in corn.
Tall waterhemp and marestail are two weeds that are resistant to glyphosate and ALS herbicide modes of action in the WNY and Finger Lakes regions.
Each year the number of acres with resistant weed populations expands.
For herbicides to be an effective tool in weed management, we have to know what chemistries & application timings are most effective against these resistant weeds.
Income and Real Property Tax Primer-A Learning Circle for Women Non-Operating Land Owners of Ag Land
July 24, 2019
9:00 am - 3:00 pm
Portageville, NY
For many of us taxes can be a mystery, let's have a conversation with the experts about the tax considerations agricultural landowners need to think about.
Pasture Walk with the Finger Lakes Graziers-Cancelled!
July 29, 2019
12:45 - 4 pm
The Finger Lakes Graziers pasture walk has been cancelled due to some scheduling conflicts.
Announcements
RMA Announces Additional One-time Changes to Prevented Planting Provisions
June 29, 2019
RMA Announces Additional One-time Changes to Prevented Planting Provisions
for 2019 Crop Year
In response to delayed and prevented planting resulting from above average rainfall and wetness, the USDA Risk Management Agency has made a one-time change to the 2019 crop year prevented planting rules that effectively allows silage corn, if planted as a cover crop following local agricultural expert guidelines, to be acceptable as a post-prevented planting cover crop. Under this one-time rule change, producers are allowed to produce this crop while retaining their prevented planting payment. This change couples with previously announced one-time changes to the prevented planting rules - including expanded acceptable uses for post-prevented planting cover crops and a change in the cover crop haying and grazing start date rule - serve to help those struggling to meet their forage needs due to the weather.
Read the full article
from the New York Crop Insurance Education Program.
The USDA-RMA states that "For crop insurance purposes, a cover crop is a crop generally recognized by agricultural experts as agronomically sound for the area for erosion control or other purposes related to conservation or soil improvement." PRO-DAIRY specialists Joe Lawrence and Karl Czymmek and Dr. Quirine Ketterings, Professor and Director of Cornell Nutrient Management Spear Program have
released a letter
stating "Corn on Prevented Planting acres meets these objectives."
New Guidance for Mortality Disposal Issued
NYS Department of Ag and Markets has posted guidelines on disposal of livestock carcasses, in response to reports that some rendering companies have halted pickups from farms.
https://nwnyteam.cce.cornell.edu/submission.php?id=761&crumb=dairy|1